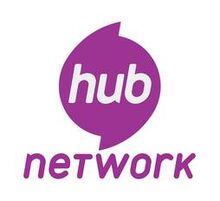 Hub Network, previously known as the Hasbro-Discovery Communications Joint Venture Network and The Hub, was a cable television network in the United States owned by Hub Television Networks, LLC, formerly known as Hasbro-Discovery Communications Joint Venture. It began broadcasting October 10, 2010, replacing the channel formerly known as Discovery Kids.
Hub Network was the American outlet for the Transformers: Prime, My Little Pony: Friendship is Magic and G.I. Joe: Renegades cartoons. In the 2011-12 season, Transformers: Rescue Bots also joined the network's line-up. From 2010 through 2014, its management team was headed up by Margaret Loesch, a veteran of the Transformers brand who worked on the original cartoon.
Hub Network broadcasts of the original cartoon (billed as The Transformers: Generation 1) aired late weeknights, while Prime aired in the Saturday Mash Up block. On July 9, 2012, Hub Network also added Transformers Animated to their lineup.
Despite a few minor hits like Transformers (yay!) and My Little Pony, Hub Network was known for having low ratings with its target demographic: it averaged 56,000 viewers aged 2–11 each day by the end of May 2013. Although ratings steadily climbed throughout 2010, to the point where it almost equaled its rival Nicktoons (80,000 a day — it's a competitive market! In context, Nickelodeon and the Disney Channel both average about a million viewers aged 2–11).
On October 13, 2014, Hub Network became Discovery Family, which airs Discovery-produced programming at most hours, with Hasbro content to air only during the daytime. As a result of the change, the 2015 Robots in Disguise cartoon was moved to Cartoon Network.