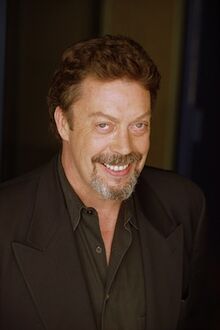 Timothy James Curry (born April 16, 1946) is a British actor, voice actor, comedian, and singer. He is best known for portraying Dr. Frank N. Further in The Rocky Horror Picture Show, Pennywise the dancing clown in Stephen King's It, Darkness in Legend and Mr. Jigsaw in Loaded Weapon.
In the realm of animation, some of his voice acting credits include Professor Finbarr Calamitous in Jimmy Neutron, Dr. Anton Sevarius in Gargoyles, G. Gordon Godfrey in Young Justice, Taurus Bulba in Darkwing Duck, the second voice of Palpatine in Star Wars: The Clone Wars, and Nigel Thornberry in The Wild Thornberrys (alongside Lacey Chabert).
Voice roles
Edit
Curry suffered a minor stroke in July 2012, but as of June 2015 appears to be recovering just fine. The extensive amount of physical therapy he has required since his stroke is likely the reason he's been unable to reprise his role as Morocco, among other roles.