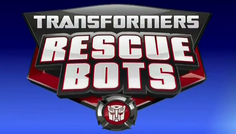 Transformers: Rescue Bots
is a children's show that launched on The Hub on December 17, 2011 with the preview of the first two episodes, and the full season starting February 18, 2012. The show has been renewed for four seasons.
The Autobots Heatwave, Chase, Blades, and Boulder work with the Burns family to help people from disasters.
See: List of Episodes
Characters and Cast
Edit
Other Rescue Bots
Bee Team
Edit
Greene Family
Edit
Townspeople
Edit
Antagonists
Edit
Artificial Intelligence
Edit
Mini-Cons
Edit